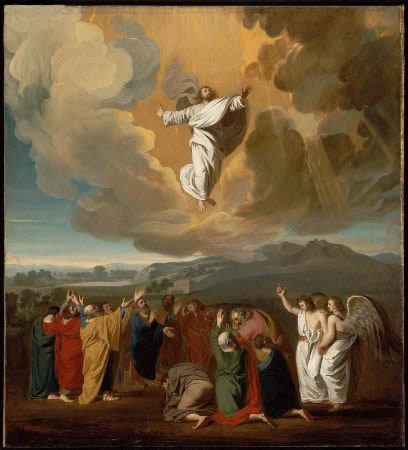 Homily
There is the story of a young man making the decision to leave his girlfriend to join the seminary. It was a difficult parting for them because they had become extremely close and were true friends. Many years later this young man now a priest met the sister of his friend and asked her why she had never married. The sister looked at the young priest and said; "you men never understand! My sister so idealized you that no one could ever measure up to what you were and continue to be for her."
Departures, as painful as they may be, allow us to experience the presence of loved ones in different ways. After the pain of parting we experience those whom we love and are absent from us in new ways without the irritations caused by character differences, habits which affect us negatively, physical faults etc. We can appreciate the loved one in a more perfect way., that is why we only really appreciate what others are for us when they are no longer with us. Absence gives us something which presence cannot give. Physical absence brings on presence in a new and different way. It is a presence which inspires and strengthens and gives us the impulse to do great things because of the one who is loved but is no longer present physically. That is why persons have built monuments to honour parents and loved ones.
This weekend we celebrate the Feast of the Ascension. Pope St. Leo the Great, meditating on this event in the life of Jesus, tells us; "For the Son of man, dearly beloved, was revealed more perfectly and more solemnly as the Son of God once he had returned to the glory of his Father's majesty, and in a mysterious way he began to be more present to them in his godhead once he had become more distant in his humanity." That is why Jesus, in the Gospel of St. John tells his disciples; "It is good for you that I go because if I don't go the Spirit cannot come to you. The Spirit, the new presence of Jesus would move the disciples to undertake and be successful at the seemingly impossible. They would take seriously the words of Jesus; "Go, therefore, and make disciples of all nations, baptizing them in the name of the Father, and of the Son, and of the Holy Spirit, teaching them to observe all that I have commanded you." These formerly cowardly disciples would do this because of the presence of Jesus with them; "And behold, I am with you always, until the end of the age."
This has been the experience of the church down through the ages. The presence of Jesus to and in his disciples has inspired them to do great and glorious things. This presence has inspired and strengthened martyrs. This presence has inspired and strengthened saints like Francis, who got off his horse to embrace the leper; St. Damian of Molokai who dedicated himself to the care of lepers, finally becoming one with them himself; Mother Teresa of Calcutta giving herself to those dying abandoned on the streets, and Bl. John Paul II, who forgave the one who attempted to assassinate him.
It is the same presence of Jesus with us. This presence strengthens us to forgive an errant son or daughter. This presence strengthens us to fight against some habitual sin and conquer it. It is this presence which in the difficult moments assures us of the love of the Father. It is this presence which enables us as it did St. Damian and others to do the difficult things for Christ. My we always be aware of this presence in our lives; may we always come to that presence; and above all, may we always be thankful.
Prayer
All powerful and ever-loving God, your Son Jesus left us so that he could be with us in a new and deeper way. Help us to appreciate his presence with us so that we may be empowered to do the great and beautiful things which You expect of us. We ask this through the intercession of Mary, our mother, and your Son Jesus.
Amen
Gospel: Matthew 28, 16 – 20
The eleven disciples went to Galilee, to the mountain to which Jesus had ordered them.
When they saw him, they worshiped, but they doubted. Then Jesus approached and said to them,
"All power in heaven and on earth has been given to me. Go, therefore, and make disciples of all nations, baptizing them in the name of the Father, and of the Son, and of the Holy Spirit, teaching them to observe all that I have commanded you. And behold, I am with you always, until the end of the age."