Great News!! Fr. Alan Mohammed Celebrates Special Mass For Married Couples
It is with great pleasure that I share this post. You know the media has done a really – I must say – good job at painting a really bad image of married life. So much so, that there has been a very sharp decrease in couples wanting to get married. Much of what is reported by the media is about all the negatives. All the statistics about the high rate of divorce etc. However today at the St. Ann's Catholic Church, a number of married couples came together to celebrate a special Eucharist where they renewed their vows and rededicated themselves to each other.
Father Alan Mohammed OP., is the parish priest of St Ann's, Port of Spain.  This parish celebrated their feast day – Memorial of Saints Joachim and Anne, Parents of the Blessed Virgin Mary – on Wednesday 26th July. One of the things that I have noticed about Fr. Mohammed is that whenever he says Mass, he always starts by saying that the Mass is being offered up for married couples and for families. Then at the prayers of the faithful he will always pray for family life and for marriages. It should therefore be of no surprise that he should initiate something like this.
In attendance at this special Mass for married couples were somewhere between 30 and 40 married couples. I believe there may have been more than that. The great news that got me really excited is that this was the first time this was organized at this parish and this is only in one of several parishes in the Archdiocese of Port of Spain. That tells us that despite how the media portrays married life and family life, there are still quite a large number of successful marriages in our communities.  Christian married life is alive and well! Yes there are broken marriages but there are quite a large number of marriages that are doing really well – Thank God!!
During the Mass, Fr. Mohammed preached to the married couples and he admitted that he constantly had to remind himself that it was not a wedding ceremony that he was doing but rather renewal of vows. He compared the vows that he took as a priest with that of married life and urged couples never to let the sun set on their anger, but to always seek to be reconciled with one another.  After the sermon, all married couples were asked to stand, face each other, and renew their marriage vows.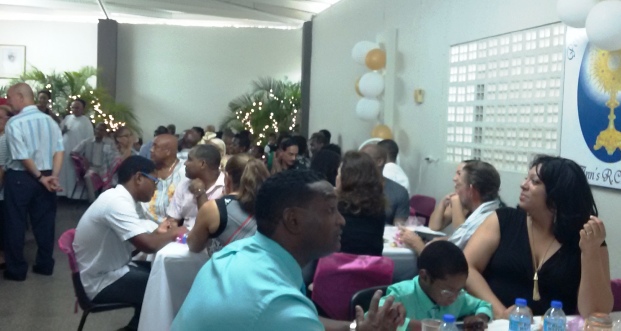 At the end of this special Eucharist, all married couples were invited to a small reception at the St. Anne's Parish Hall. Many of the couples who attended were celebrating well over 20 years of married life. There was one couple that celebrated 60 years plus, and at least four couples celebrated 50 years and more.
All of the married couples that I spoke to and had the privilege of meeting we're very happy at this event and found that it should be done again. Very special thanks to Father Alan Mohammed for initiating this, and for the team that worked with him to make it all happen. My prayer is that this would be repeated in all of the parishes throughout the Archdiocese of Port of Spain, Trinidad.